SEND in Museums
Online Training
Event date:
December 5, 2023
Event Time(s):
10am – 12:30am
Event type:
Online Training
In summer 2023 we sent a poll out to our mailing list asking what areas of SEND in Museums you would like to develop. You told us you wanted to know more about 'Open ended craft activities and practical ideas for engagement'.
---
Training Overview
11% of children in the UK are disabled and 23% of school children in NI have Special Educational Needs, how you welcome them and their families will result in them visiting you … or not! Adding nondisabled siblings to that number will increase this potential audience to a 5th of the UK child population. Just knowing this is a powerful advocacy tool to make a business case for SEND inclusion in your Museum.
Inclusive and accessible activities, resources and programming as well as confident staff who value the needs of all visitors, are the cornerstones to creating a SEND inclusive museum.
In this 2.5 hour training session, SEND in Museums specialist Sam Bowen, will guide you through understanding the positive impact of inclusive activities on SEND families and how to develop them. Showing examples of best practice elsewhere, combined with her own professional museum learning knowledge and lived SEND parent experience, Sam will inspire you to think practically about how you can embed this practice in your own organisation and then lead you through a planning exercise.
Please note, this is an online training session but to get the most out of the break out activity, we invite delegates to bring a range of craft materials with them to explore. These can be cheap and readily available materials from around the home or workplace, for instance, paper, pens, tape, blutack etc or more colourful inexpensive items like air dry clay, feathers, craft paper and sequins! Bring what's available to you and what you enjoy handling!
Learning outcomes:
What SEND is and how to support this audience and their families
What good experiences and bad experiences in museums feel like and why this work matters
How to make quick business case points for advocating for SEND activities in your museum
How to develop a range of activities both within your programming and as self-lead options for SEND families
Plan in the short and medium term how you can put this into practice.
Who is the session suitable for?
This training is suitable for beginners and those looking to explore the topic further.
Trainer
Samantha Bowen
Sam Bowen is the developer of the SEND in Museums website and an inclusion campaigner in museums. She has worked in the sector for over two decades as a museum curator, education manager and museum development officer. Sam is also a SEND mum and has a daughter who has special educational needs and disability. In 2021 she was awarded the Radical Changemaker Award in the Museums Change Lives campaign from the Museums Association
Visit Sam's website for more info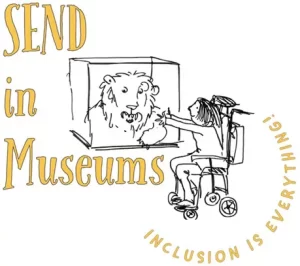 How to Book & Refund Policy
Bookings can be made via Eventbrite. If this is not possible, please contact the NI Museums Council at catherine.doran@nimc.co.uk to request a booking form and provide a Purchase Order number.
NI Museums Council does not offer refunds on cancellations made within two weeks week of the course date, however the place can be transferred to another person within your organization or who is also a member.
Eventbrite cancellations made over two weeks before the event will be refunded minus the Eventbrite booking fee. Please note that costs are inclusive of the Eventbrite booking fee. By default, Eventbrite do not provide refunds on fees. This means that the attendee will receive a refund for the amount they paid minus the Eventbrite fees.
Cancellations two weeks before the event on bookings made via NIMC Booking form will be refunded minus a 10% admin fee.