Queer Possibility & LGBTQ+ tour
In Person Training
Event date:
December 14, 2023
Event Time(s):
10am – 1pm
Event type:
In Person Training
Event Venue:
Northern Ireland War Memorial
An introduction to Queer Possibility, a set of strategies for interpreting queer stories in history and in your museum.
---
Training Overview
Join trainer Margaret Middleton for An introduction to Queer Possibility, a set of strategies for interpreting queer stories in history. We will start with an overview of current practice and common arguments against including queer content in museums and then moving into three interpretive strategies: descriptive, inferential and imaginative. We will end with the queer possibility in museums booklet and a discussion of using it as a place to find queer narratives to interpret in your museum.
Additional Speaker
Claire Hackett will speak about the importance of bringing intersectional perspectives to uncovering lgbtq+ histories. She will draw on her personal experience of lgbtq+  activism since the 1980s and on her work with Falls Community Council and the Dúchas oral history archive.
Claire Hackett is the founding coordinator of Falls Community Council's oral history archive  Dúchas about the experience of the conflict. She uses oral history in her current peacebuilding work. She has been involved in lgbt+ activism since she came to Belfast from Tyrone and came out in the early 1980s.
LGBTQ+ tour of the Northern Ireland War Memorial Museum
From the Belfast Blitz to the American presence, join Michael Fryer for an LGBTQ+ tour of the Northern Ireland War Memorial Museum. The tour will use the museum exhibition and artworks from its collection to explore how issues of sexuality and gender impacted on life during the Second World War. This tour will be given by Michael Fryer, Outreach Officer for the NI War Memorial, who has kindly offered to provide it for the trainees as part of their workshop.
Who is the session suitable for?
This training is suitable for beginners and those looking to explore the topic further.
Trainer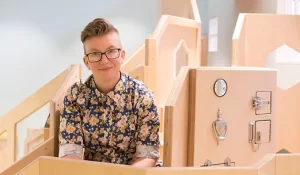 Margaret Middleton is an American independent exhibit designer and museum consultant currently based in Belfast, Northern Ireland. With a degree in industrial design from the Rhode Island School of Design and over 15 years of experience in the museum field, they work at the intersection of design and social justice.
Middleton developed the popular Family Inclusive Language Chart and consults with museums on implementing inclusive practice with special focus on children, gender minorities, and queer people. Their writing has been published in books including Storytelling in Museums, Welcoming Young Children Into the Museum, and The Inclusive Museum Leader as well as journals including the Journal of Museum Education, Exhibition, Museums & Social Issues, and Dimensions.
How to Book & Refund Policy
Bookings can be made via Eventbrite. If this is not possible, please contact the NI Museums Council at catherine.doran@nimc.co.uk to request a booking form and provide a Purchase Order number.
NI Museums Council does not offer refunds on cancellations made within two weeks week of the course date, however the place can be transferred to another person within your organization or who is also a member.
Eventbrite cancellations made over two weeks before the event will be refunded minus the Eventbrite booking fee. Please note that costs are inclusive of the Eventbrite booking fee. By default, Eventbrite do not provide refunds on fees. This means that the attendee will receive a refund for the amount they paid minus the Eventbrite fees.
Cancellations two weeks before the event on bookings made via NIMC Booking form will be refunded minus a 10% admin fee.